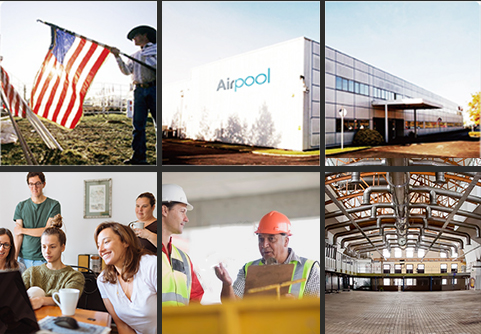 Airpool is headquartered in Dallas,Texas,Usa.As a leading supplier of electronic air purification products in the industry,Airpool has advanced ESfore™ Electrostatic precipitation technology,TIMAX@ plasma air disinfection technology and NanoUVphoto™ photocatalytic oxidation air disinfection technology.Airpool has focused on solving air pollution of various indoor spaces for over 20 years and accumulated specialized technology and rich experience in air sterilization and dust removal.
Airpool has its own R&D and manufacturing plant that produces various types of commercial,household and personal portable air purifiers with excellent performance,which can achieve portable and full space purification for commercial space and family space.Its products can not only efficienty purify PM2.5,pollen,inhalable particles and other air pollutants but also have a one-time sterilization rate of up to 99% for all kinds of bacteria and viruses.There is no need to replace filter element for Airpool products,whichis cost saving.
Airpool has provided the most advanced and efficaient technologies for improving indoor air quality.Our innovation and products are widely applied worldwide.Airpool is committed to provide indoor environmental solutions,pursur new improved methods unceasingly to enhance efficiency,respect our environment and make sure that our indoor air is more pure.
Airpool In ChinaAirpool set up an assembly plant in Songjiang, Shanghai in 2014 to produce high-quality Airpool air purification productsAirpool China factory manufactures in accordance with U.S. manufacturing systems and standards to ensure that product quality meets international standardSet up sales and after-sale service centers in Beijing, Shanghai and other major cities in China to improve comprehensive pre-sale and after-sale service
1824A British man, Hohlfeld, developed a method to remove dust from sprays using a corona discharge. However, the technology hasn't been developed or popularized for nearly 100 years.1907FredCottrell, a professor in the university of California, USA, invented the method of using electrostatic adsorption to filter out dust and other small airborne particles in order to reduce the acid fog and lead oxide particles emitted by some chemical plants at that time. Professor Cottrell had only six patents in his lifetime, but his electrostatic precipitator changed the world.1954Raytheon, an American military technology and electronics giant, made the world's first home electrostatic air purifier. Raytheon, a supplier of radar and guided missiles to the U.S. military during world war ii, produced its first civilian product after world war ii.1996KEVIN COOPER pioneered the third generation of electronic decontamination technology, which makes electrostatic dedusting more effective and efficient in commercial air purifiers and large building air decontamination systems.
The new electronic adsorption technology developed for Airpool based on the traditional ESP technology can achieve PM2.5 purification efficiency and microbial purification rate of up to 95%. Double ESP™ purification unit uses different rated voltages and micro currents in the ionization and dust collection sections of the air to maximize the ionization of PM2.5 and bacterial virus. The maximum dust capacity adsorbs ionized particles with a higher purification efficiency than traditional HEPA filters. The filter is simply cleaned and reused.Adopt unique of PE composite and composite metal Purification filter unit, through the Airpool closed high voltage power supply, lowest ionization voltage output independent to achieve high one-time Purification efficiency. Magic Purification™ achieves the industry's highest purification efficiency for PM2.5 and microbial bacterial virus. Its unique structure and material implement the zero ozone and zero arc, large dust capacity, easy to clean and can be reused.Originated from application of NASA's Goddard Space flight center in the USA purification technology. Auto PLasmaIonization™ acts on rare metal oxide material through specific band ultraviolet rays, with independent high-energy ion device to produce a large number of API air purification factors. API includes hydroxyl ions, negative ions and superoxide ions. The API factor actively captures and removes PM2.5 particles in the air along with the air flow, and reacts in a chain reaction with air pollutants such as bacterial viruses to completely kill all microbial pollution.
The pre-filter filters the large particles of impurities and dust from the air, and then the air enters the high-voltage ionization section. This section inputs electrostatic high voltage to ionize and charge particles in the air (down to 0.001 microns). At the same time, high-voltage static electricity will break down the cell structure of bacteria and viruses to completely kill them. The charged particles then enter the dust collection section. This section is fed with different electrostatic high voltages, so that the polarity of the dust collecting plate is opposite to the polarity of the charged particles. Thus, the particles are adsorbed on the collecting plate, and finally output high-quality air.